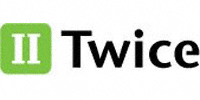 Overzicht
Ervaringen (2)
8,6 Reinier
"Ik heb deze training met volle tevredenheid in december gevolgd in Eindhoven. De locatie is bijzonder goed bereikbaar met de trein en voor de rest ..."
Lees alle ervaringen
Twice staat voor kwaliteit en aandacht voor zijn klanten, zowel in zijn aanpak als in het overdragen van kennis door trainingen en opleidingen voor de gehele IT-sector. Twice is sinds 1992 actief op de Nederlandse IT-opleidingsmarkt. Sinds 2011 maakt Twice deel uit van NCOI Opleidingsgroep en daarmee is Twice een kernopleider van de grootste IT-trainingsorganisatie van Nederland. Twice verzorgt IT…
Beschrijving
Twice staat voor kwaliteit en aandacht voor zijn klanten, zowel in zijn aanpak als in het overdragen van kennis door trainingen en opleidingen voor de gehele IT-sector. Twice is sinds 1992 actief op de Nederlandse IT-opleidingsmarkt. Sinds 2011 maakt Twice deel uit van NCOI Opleidingsgroep en daarmee is Twice een kernopleider van de grootste IT-trainingsorganisatie van Nederland. Twice verzorgt IT-trainingen voor software developers, netwerk- en systeembeheerders en voor gebruikers van kantoorautomatisering. De ruim 500 trainingen kunnen zowel op maat gesneden als uit open rooster gevolgd worden op een van de opleidingslocaties in Nederland.
Erkende kwaliteit
Twice verzorgt door heel Nederland ruim 500 erkende IT-trainingen. Twice heeft dan ook alle denkbare certificeringen en kwaliteitserkenningen op het gebied van IT-training. Bovendien maakt Twice deel uit van NCOI Opleidingsgroep, een organisatie die officieel is erkend door het ministerie van Onderwijs, Cultuur en Wetenschap. Een opleiding of training volgen bij Twice betekent dus een keuze voor erkende kwaliteit!
Topkwaliteit voor een reële prijs
Onze erkende trainingen voldoen aan de hoogste kwaliteitsrichtlijnen. Daarnaast zorgen we met een eigen kwaliteitszorgsysteem voor voortdurende verbetering van onze opleidingen, trainingen en dienstverlening in het algemeen. Zo kunt u rekenen op professionele begeleiding, een klantgerichte en persoonlijke benadering en een uitstekende, officieel erkende opleiding of training. Twice levert topkwaliteit voor een zeer reële prijs. Dat is ook de reden dat vele organisaties gekozen hebben voor Twice als leverancier voor opleidingen en trainingen. Twice heeft als toonaangevende IT-opleider een compleet programma van erkende opleidingen en trainingen. We geven u graag een overzicht van onze diverse activiteiten.
Software development
Twice is een absolute specialist en de grootste in Nederland in het verzorgen van gespecialiseerde IT-trainingen op het gebied van software development. Software development of softwareontwikkeling is niets anders dan het vertalen van ideeën, vragen of problemen naar technische oplossingen in computerprogrammatuur. Twice verzorgt een breed scala aan opleidingen, trainingen en certificeringen voor de software developer die zich bezighoudt met alle aspecten van het bouwen van complexe softwareprogrammatuur. Denk hierbij aan trainingen op het gebied van programmeren, objectoriëntatie, frameworks, architectuur, systeemanalyse en software testen. Voor de beginnende junior Software Engineer tot en met de zeer ervaren senior Software Architect verzorgt Twice een uitgebreid aanbod. Populair zijn de trainingen op het gebied van ASP, .NET, SQL Server, J2EE, C, C# en C++ en certificeringen Java en Microsoft (MCTS, MCPD). Daarnaast verzorgt Twice trainingen op het gebied van Visual Studio, SharePoint, Object Orientation, PHP, Java, JavaScript en XML.
Netwerk- en systeembeheer
Netwerk- en systeembeheerders zorgen voor het dagelijks onderhoud en beheer van een computernetwerk of computersysteem. In de praktijk lopen de functieomschrijvingen sterk uiteen en zijn ze veelal afhankelijk van de grootte van een organisatie. Twice verzorgt een breed scala aan trainingen en certificeringen voor de netwerk- en systeembeheerder die verantwoordelijk is voor helpdesk of systeembeheer: Het optimaal functioneren en beveiligen van een of meerdere computersystemen of computernetwerken. De trainingen worden verzorgd voor de beginnende junior netwerk- en systeembeheerder en de helpdeskmedewerker tot en met de zeer ervaren senior consultant. Populair zijn de trainingen voor Windows 7, Windows Server 2008, Red Hat, Ethical Hacker en SQL Server en de certificeringen van Microsoft (MCTS, MCITP) en Citrix Certified Administrator (CCA). Daarnaast verzorgen we trainingen voor Microsoft, Novell, Citrix, CompTia, EC- ouncil, Linux, Cisco en VMware.
Eindgebruikerstrainingen
Twice verzorgt een breed scala aan trainingen voor de (eind)gebruiker van kantoorautomatisering en richt zich primair op gebruikers van Microsoft Office-producten zoals Microsoft Office Excel, Microsoft Office Word, Microsoft Office PowerPoint, Microsoft Office Access en Microsoft Office Project. De meer eisende gebruiker kan ook kiezen voor trainingen met daarin een combinatie van diverse Microsoft Office-pakketten. Alle trainingen kunnen klassikaal worden gevolgd uit open rooster, in groeps- of privétraining of in de vorm van zelfstudie met begeleiding in het Expertisecentrum. Populair is maatwerktraining of incompanytraining waarbij grote groepen (eind)gebruikers tegelijkertijd en in korte tijd getraind worden. Maatwerktraining levert bedrijven en organisaties effectiviteit en efficiëntie in training op gecombineerd met een aanzienlijke besparing op kosten voor trainingen.
Project- en procesmanagement
Twice is een van de grootste trainingsorganisaties op het gebied van erkende proces- en projectmanagementtrainingen. Twice verzorgt veel trainingen op het gebied van ITIL® en PRINCE2®. Twice is officieel geaccrediteerd als Accredited Training Provider (ATP) door Exin, het exameninstituut voor ICT'ers, voor ITIL®-trainingen. Op het gebied van projectmanagement is Twice erkend als Accredited Training Organisation (ATO) voor de uitvoering van PRINCE2®-opleidingen, toegekend door de accrediterende instelling APMG in opdracht van het Britse Office of Government Commerce (OGC). Deze trainingen kunt u individueel in ons open aanbod volgen. Twice verzorgt de trainingen op het gebied van ITIL® en PRINCE2® inclusief examens tevens in de vorm van een incompanytraject en op maat gemaakt voor uw organisatie.
Maatwerktraject of een incompanytraject: Erkende opleidingen en trainingen op maat
Twice verzorgt incompanytrainingen en erkende IT-opleidingen op maat. Alle trainingen in deze brochure kunnen ook binnen uw organisatie worden uitgevoerd. Daarnaast is Twice erin gespecialiseerd specifieke maatwerkopleidingen en -trainingen voor u en/of uw organisatie te ontwikkelen. Voor deze maatwerktrajecten vindt u in Twice een professionele partner. Onze opleidingsadviseurs komen graag bij u langs om de uitgebreide mogelijkheden te bespreken.
Ervaringen
Enkele ervaringen met cursussen van Twice
"Ik heb deze training met volle tevredenheid in december gevolgd in Eindhoven. De locatie is bijzonder goed bereikbaar met de trein en voor de rest is de locatie prima. De lunch is extern en goed.<br /><br /> Inhoudelijk kreeg ik het idee dat de cursus (materiaal + docent) erg up2date waren wat natuurlijk een pre is.<br /><br /> De groep was niet al te groot (5 personen) waardoor ik voldoende persoonlijke aandacht kreeg.<br /><br /> De docent had bijzonder veel ervaring en was daarmee erg praktijk gericht." "Ik heb deze training met volle tevredenheid in december gevolgd in Eindhoven. De locatie is bijzonder goed bereikbaar met de trein en voor d…"
Lees alle ervaringen met deze opleiding
"Uitgebreide en goed verzorgde training! Enig minpuntje dat het instapniveau lager is dan ik verwachtte, hierdoor was niet alles voor mij zinvol. Maar als je de ins en outs wilt weten van Ajax, je ervaring met HTML en Javascript niet zeer uitgebreid is, dan is het een goede cursus. In de tijd dat ik de cursus volgde, was de .NET variant er niet en was alles in Java of Java gerelateerd. Nu is die variant er wel; dus als je een Microsoft geörienteerde cursus wil kun je beter die pakken." "Uitgebreide en goed verzorgde training! Enig minpuntje dat het instapniveau lager is dan ik verwachtte, hierdoor was niet alles voor mij zin…"
Lees alle ervaringen met deze opleiding
Deel je ervaring
Deel je ervaring
Deel je ervaring en help anderen kiezen. Als dank voor de moeite doneren wij € 1,- aan Stichting Edukans.
Staat de training niet in deze lijst? Vul de naam dan in op het formulier.